About Us
Washington

Jim Cheskawich
Woodland Kennels
183 Wieri Road
Woodland, WA 98674-9211

Telephone (360) 225-8402

Fax (360) 225-3513

email Samtres@earthlink.net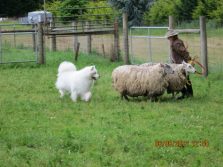 Jim was born and raised in Western Pennsylvania. He received his B.S. (Admin Management) and MBA from Penn State. After nearly 28 years with the Federal Government in Washington, DC he retired in 2002. He has shown occasionally and prefers the administrative side over being in the ring—unless a Seattle, Riley, or a Sammy puppy is on the other end of the lead. Jim currently manages the dog kennel in Woodland, WA and has worked as a sub teacher for over 12 years working with pre-school students up to 12th grade. He served as Samoyed Club of America (SCA) president for 3 years and lost track of how many years he served as SCA treasurer. He has been local club (Willamette Valley Samoyed Fanciers) president for 6-7 years and is currently local club treasurer. Jim "retired" as Treasurer for the SCA Education and Research Foundation in October 2012. The Story of Rex of White Way, The Blizzard King was published in November 2012.
---
Washington

Ryann Grady
104 North 39th Street
Seattle Washington 98103

Cell (206) 227-7429

email ryanngrady@hotmail.com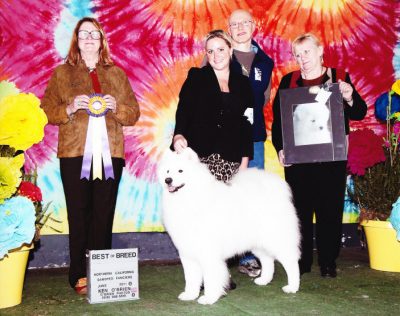 ---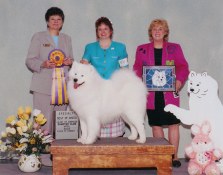 Christie's love of Judging came from her love of dogs. She judges the Working Group, most of the Non-Sporting Group, Miscellaneous, Junior Showmanship and Best in Show. Each assignment is a new adventure; an adventure that says, today may be the day she sees that dog that just takes her breath away; that is sound, possesses breed type and a heart that enables them to both do the job they were bred to do and to please its owner. As a breeders, whether new pet families or show homes, the joy of making new friends, helping them to live in harmony with their new lifelong companion, their adventure in the show ring or encouraging them in the working events, Christie, together with Jim and Ryann are devoted to them and their varying endeavors. From Keta's accomplishments in weight-pull, herding and therapy, Jamie's three seasons on the Silver Hollow Sled teams, Riley and Maker continued contributions in therapy have followed in the footsteps of Grand Dam Seattle, and Doni, Kai and Noah worked in Skijoring, herding and back-packing, Christie, Jim and Ryann strive to produce dogs able to both physically and mentally enjoy the vast array of working events. They feel a great pride in these versatile d'Keta dogs.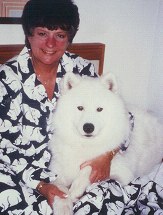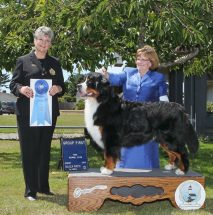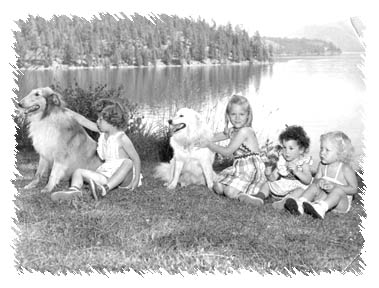 Christie, at age 4 petting her friends collie, while her friend Ann, pets her Samoyed Keta. Baby sister Julie and a friend join in the fun.
President, Oregon Dog Judges
Member, Samoyed Club of America
Member, Willamette Valley Samoyed Fancier
Member, Clackamas Kennel Club
Member, Tualatin Kennel Club
Member, Mt. Rainier Kennel Club
Member, Oregon Dog Judges, President
Member, American Dog Show Judges
Member, Dog Judges Association of America

Christie showing Kira to her International
Championship

SCA Columnist, AKC Gazette '00, '03, '04, '05, '06, '07
SCA Education Chairman '96
Board of Directors SCA '97 & '01 & '02
Recording Secretary SCA '98 & '99
SCA Columnist, AKC Gazette '00 & '03 & '04
WVSF Co-Founder President, V. Pres. Rec. & Cor. Sec., Board Member
Hospitality Co-Chair Nat. Spec. '96 & '04
Judged Dogs ~ 2006 National Specialty
---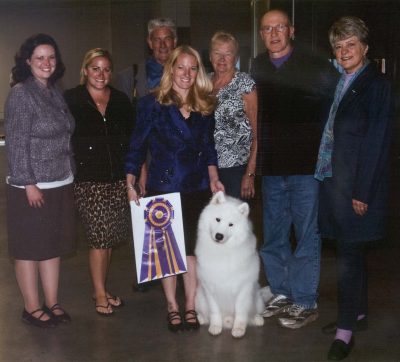 Second from left Ryann Grady, far right Christie Martinez, second from Right Jim Cheskawich of d'Keta Samoyeds together with the Oakbrook Samoyed family, Sire of Riley. Picture taken following Riley winning Best of Breed at the Samoyed Club of America's National Specialty.
---
California

Celinda
P.O. Box 54
Gazelle, CA 96034

Telephone (541) 941-9497

Cell (530) 435-2310

email Celinda3@me.com


Celinda with Ch. d'Keta's NYPD Blue "Jimmy"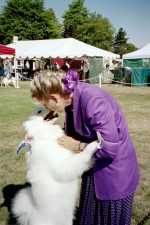 Having been owned by Samoyeds for over 30 + years, Celinda focuses on research, studying pedigrees and genetics.

Celinda's continued commitment is seen in her particular love for the sport of exhibiting! Bonding with and training puppies and dogs, planning and traveling and being emerged in the psyche of the sport.


SCA Recording Secretary 2001-2003
2004 SCA Board of Governor
National Specialty Chairperson for Banquets/Hospitality 1996, 2000, 2002, 2006
PVSC Board Member 2001 - 2003
SCWS Vice President
WVSF Founder, Board Member & Officer
Tualatin Kennel Club
Actively instructing dog and puppy owners in class and private trainings to create a warm and loving bond resulting in happy canines and proud families.